The Beatles

Item By Type

Gift Ideas

Our Company
Sign up now for our newsletters!
Customer Service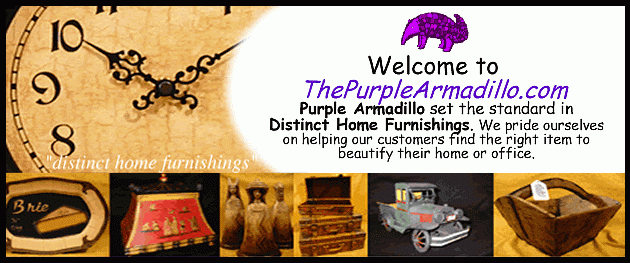 The Purple Armadillo is dedicated to providing our customers with a superior level of service.
Placing items in Your Shopping Cart: To purchase items simply click on the "Add to Cart" button on the item's product information page. You can view the items you have placed in your shopping cart at any time by clicking on the "Shopping Cart" icon located at the top of any page. Your order becomes available for online status tracking 24 hours after placing your order.
My Order: Most items will ship within 2–3 business days from our Utah warehouse. Once your order ships, we will email you shipping details, including a tracking number. You will be unable to check your order status until you receive the email. Most packages will be delivered within 5—10 business days. Please keep in mind that larger items can take up to 3 weeks for delivery. Specific ship times will be listed on the product page. Items shipped to Alaska and Hawaii may take 4—6 weeks for delivery. Please note that multiple items ordered may not arrive in the same box.
Return Policy: ThePurpleArmadillo.com we want you to be perfectly satisfied with your purchase. We will replace or refund your purchase for up to 30 days of receipt if you are not completely satisfied. Returns are easy. You can return the merchandise through the mail for a refund or replacement. Please feel free to order anything form our web site knowing that you can return it to us if the item does not work out for you. We know sometimes things look different, and when you get them in your home it might not work the way you wanted. We want you to be happy with the products that you buy from us.

Privacy Policy: ThePurpleArmadillo.com is the sole owner of the information collected on www.ThePurpleArmadillo.com. ThePurpleArmadillo.com collects information from our users at several different points on our Web site. Order: We request information from the user on our order form. A user must provide contact information (such as name, email, and shipping address) and financial information (such as credit card number, expiration date). This information is used for billing purposes and to fill customer's orders. If we have trouble processing an order, the information is used to contact the user. Uses of Information: We use the information that you provide for such purposes as responding to your requests, customizing future shopping for you, improving our stores, and communicating with you. We will not share your information with any third parties. Automatic Information: We receive and store certain types of information whenever you interact with us. For example, like many Web sites, we use "cookies," and we obtain certain types of information when your Web browser accesses ThePurpleArmadillo.com. "Cookies" serve the additional purpose and allows our software to customize newsletter and Web page content based on visitors' browser type. E-mail Communications: To help us make e-mails more useful and interesting, we often receive a confirmation when you open e-mail from ThePurpleArmadillo.com if your computer supports such capabilities. Security: We work to protect the security of your information during transmission by using Secure Sockets Layer (SSL) software, which encrypts information you input. We transmit the entire credit card number to the appropriate credit card company during order processing. It is important for you to protect against unauthorized access to your password and to your computer. Be sure to sign off when finished using a shared computer. Choice/Opt-Out: If you are a newsletter subscriber, you always have the option of no longer receiving them. At the bottom of each newsletter there is an opt-out option. Simply click on "Please click here to unsubscribe". Notification of Changes If our privacy policy and information practices change at some time in the future ThePurpleArmadillo.com will post the policy changes to the www.ThePurpleArmadillo.com Web site to notify you of these changes and provide you with the ability to opt out of these new uses. Legal Disclaimer: Though we make every effort to preserve user privacy, we may need to disclose personal information when required by law wherein we have a good-faith belief that such action is necessary to comply with a current judicial proceeding, a court order or legal process served on our Web site. Contact Information: If users have any questions or suggestions regarding our privacy policy, please contact us at: Phone (801) 444-0398 Fax (801) 444-0398 Email hellcatriver@gmail.com 1277 Bogey Drive, Fruit Heights, Utah 84037 Website http://www.thepurplearmadillo.com