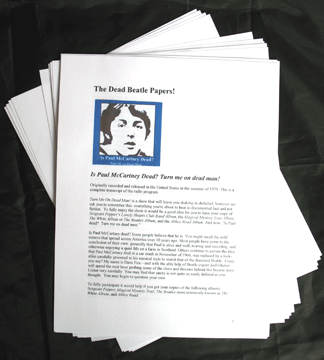 Instant Download! Paul is Dead Transcrpit "The Dead Beatle Papers"
Free Worldwide shipping
Price $1.99
1.99
Instant Download! The complete transcript of "Is Paul Dead? Turn me on Dead Man! audio program". The Dead Beatle Papers!
Now you can follow along with the program or enjoy the clues at your own pace. A word for word transcript of the whole program available in PDF format!
A total of 19 Pages of this awesome program with all the clues and lyrics for you to easily understand and follow.
Download now! After you have purchased this product you will be sent an email link that you will click on to download this digital file right to your computer. You can also print out this wonderful program to read and follow along at your leisure.