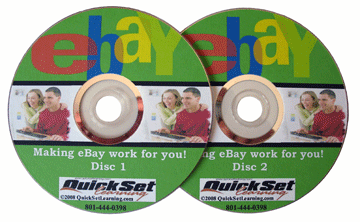 Making eBay Work for You! Trial Subscription
Free Worldwide shipping
$22.00
$1.99 On Sale!
You Save
1.99
22.00
Here's What I Got:
Simply sign up for my "Making eBay work for you monthly audio program and I will personally teach you how to triple the amount of money that you are currently earning on eBay. It's as simple as that!
Here's What It'll Do For You:
First of all, you will be learning the latest eBay selling techniques, words to use in your listings that sell items fast. Finding products that sell on eBay, a step by step guide to make eBay work for you. Each month you will receive a 2 disc audio CD program covering all the details of eBay success. You will also have access to me for personal help. I will forward you my personal email address for inside help on eBay, ask me any questions that you need help with and I will personally help you be successful.
Here's What I Want You To Do Next:
Membership is a flat $22.00 a month, you can quite at anytime. For this you will receive over 2 hours of audio eBay training. Each month I will focus on how to make serious money on eBay. Also you will receive our "Making eBay work for you newsletter" inside you will find the latest information on eBay.
That's it!
Oh" Before I forget, you can test drive your first month for only $1.99.
See for yourself if you don't triple your eBay business! If not, just cancel and we will remove you from our mailing list and it's that simple.